Too Much Doubt Over Troy Davis Yet Clemency Denied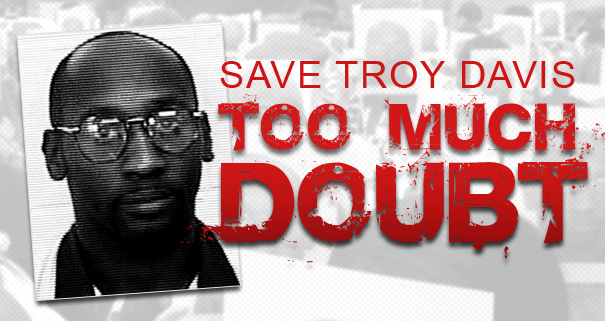 Troy Davis has been in jail since 1991 for the shooting death of police officer Mark MacPhail. He's set to be executed tomorrow. However, the US justice system has to prove beyond a shadow of a doubt or reasonable doubt to keep you locked up and take away your life. Apparently there is beyond a reasonable doubt in Troy Davis' case however he's still set to die tomorrow September 21, 2011 at 7pm.
Cops don't like when you shoot people. Cops REALLY don't like when you shoot other Cops. However, it seems that in this case there is a lot of doubt on whether or not Troy Davis actually was the one who shot officer Mark MacPhail. 7 of the 9 witnesses recanted some or all of their testimony linking Davis to the shooting. There hasn't been any evidence that links Davis either. Apparently Davis was in an argument with Sylvester "Redd" Coles when MacPhail intervened. Coles was the one that went to the police and said Davis did the shooting. New witnesses came forth pointing guilt in Coles direction. There may not be enough to put Coles in Davis' place but it sure sounds like there is enough to at least stay the execution even if it's not enough to release him yet. Many reasonable people have raised this question. Like who?
Amnesty International and other groups such as National Association for the Advancement of Colored People took up Davis' cause. Prominent

politicians and leaders, including former President Jimmy Carter, Al Sharpton, Pope Benedict XVI, Nobel laureate Archbishop Desmond Tutu, presidential candidate Bob Barr and former FBI Director and judge William S. Sessions called upon the courts to grant Davis a new trial or evidentiary hearing.
That's a lot of people who think there is doubt. 7 out of 9 witnesses no longer say it was him and even cited police coercion as the reason for their previous testimony.
Many of these witnesses have stated in sworn affidavits that they were pressured or coerced by police into testifying or signing statements against Troy Davis.
That being said a petition with 663,000 names on it in support of clemency for Davis was created. The clemency board has rejected the request and Davis' execution is set to continue tomorrow. A man is set to be killed tomorrow on a case with a lot of doubt and no evidence linking him.
Now with all this in support of either Davis' innocence or doubt of his guilt how can a court proceed to end a man's life? It would seem they are dead set to end this man's life regardless. I understand a man, a police officer, Mark McPhail is dead however an execution over false truths dishonor his death worse than an unsolved case no matter how intense the hunger for justice.
Just saying.
Additional:
http://www.forbes.com/feeds/ap/2011/09/20/general-us-georgia-execution_8690590.html
http://action.naacp.org/page/s/petition-larry-chisolm
http://en.wikipedia.org/wiki/Troy_Davis_case
http://www.amnestyusa.org/our-work/cases/usa-troy-davis
http://news.blogs.cnn.com/2011/09/15/663000-names-on-petition-protesting-troy-davis-execution/
Related Posts :