Hip Hop artist, Timid, and Pace Professor offer tips to job seekers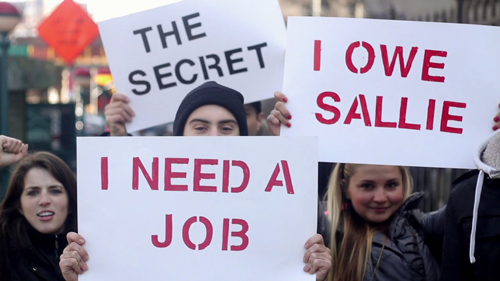 It's been questioned whether it is economically worth it to go to college these days. Statistics say that a college grad earns more over their lifetime than someone who hasn't attended college. However that depends on whether the degree holder can find a job at all. In the current economic situation in the  U.S. college grads looking to enter the work force to start their lives are facing bleak prospects and opportunities while carrying record amounts of student loan debt. The Obama administration has offered up its solution in the form of Student Loan Reform. Clearly something has to give and former students need some sort of help.
Pace University professor Dr. Larry Chiagouris has been lecturing for years on tips on how to maximize your potential opportunities while job seeking. He took that experience and crafted it into the book The Secret To Getting A Job After College – Marketing Tactics To Turn Degrees Into Dollars. Chiagouris' background as a Madison Avenue marketing professional comes into play when advising job seekers to market themselves to employers like a product.
As a professor he has tried to share his advice throughout their college years, but not until many of his students are preparing to graduate do they start to gear up for a job search. So he repeats much of what he has told these students for years, telling them to market themselves like a product, promoting their unique qualifications to attract employers.
Chiagouris teamed up with Hip Hop artist, Timid, in an effort to put the message in a more attractive form to the younger audience. In his song and video for "I Want The Secret", Timid delivers lyrics describing the current situation students face in regards to student loan debt, future job prospects and the system in general. Hip Hop may seem like an odd choice given the current image of the genre and culture however the verbose nature of the song lyrics make it perfect to deliver information.
Timid raps;
The Truth Of The Matter Is The System Would Rather
Focus, On Tuition Patterns Than On What Comes After
The Former Over The Latter, It's Like Taking Away The Ladder
How Do We Ascend To Begin Escape From Financial Captors
The high cost of higher education is really counterproductive to building a stronger and more solid nation.  People are worried about illegal immigrants running over the borders taking jobs that most Americans don't want anyway. What about college educated foreigners being recruited for the jobs Americans do want but can't get because it's too expensive to get the qualifications for them? This fight is also an aspect of what brought about the Occupy Wall Street movement. Newt Gingrich telling protestors to simply "get a job" like it's that easy proves how out of touch politicians and the wealthy are with everyday Americans. The expensive cost of tuition, high costs of living and lingering amount of student loan debt keeps many people from going to college. We are shooting ourselves in the foot and greed is holding the gun.
According to the College Board, it takes 14 long years before the four-year college grad's income, net of loan payments, starts to beat what the high school grad earns. During all those 14 years, college doesn't pay. High school pays.
That's a long time and that debt leash holds on to people during the times when people are beginning to start families. But again, high school education will only take people so far up the ladder. So any and all tips to help people find work until we collectively wise up and make a dramatic change is a good thing, yo.
Additional:
http://www.usatoday.com/money/jobcenter/workplace/bruzzese/story/2011-11-30/learn-to-market-yourself-to-get-job/51482754/1
http://blogs.vancouversun.com/2011/11/10/the-hip-hop-artist-and-the-professor-marketing-tricks/
http://articles.moneycentral.msn.com/CollegeAndFamily/CutCollegeCosts/IsCollegeWorthTheMoney.aspx
http://www.youtube.com/watch?v=RI1hg9VZjSI

Related Posts :