European Central Bank's monetary policy game €CONOMIA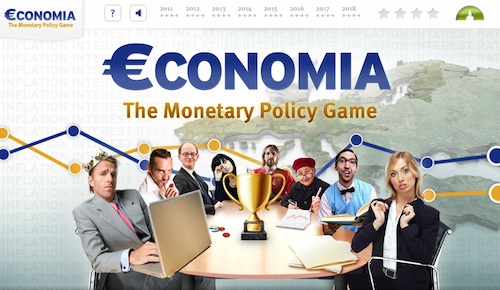 Europe's money troubles are no secret. Due to the interconnected and interdependent economies among world nations the European Union's economic failures will effect everyone. Of course matters of economics intricacies can be confusing. What would you do to fix the economy of the EU? Well that's what European Central Bank wants to give you with the game €CONOMIA (Economia). Remember the U.S. debt ceiling budget tool that let you figure out who to pay?
€CONOMIA is a monetary policy game on the bank's website that puts the player in control of the interest rate.
Ever wondered what monetary policy is? Or how the key interest rate affects inflation? Play €CONOMIA and find out how it works.

Your goal: Keep inflation low and stable at just under 2%. Your tool: the key interest rate.
The problem with this game is it is unrealistic and limited. Of course, it's just a game, but the premise communicates that the interest rate is the only factor in the money woes. Of course that's not the case. Bankers tend to be part of the problem as well.
Those in direct positions that affect economic policy are more concerned with making a profit for themselves and short-sighted goals than actual stability. Were national economic gatekeepers interested in real stability they would focus on economic and production independence of those nations.
Additional:
http://www.ecb.int/ecb/educational/economia/html/index.en.html
http://globalpublicsquare.blogs.cnn.com/2011/11/27/economia-the-european-central-banks-monetary-policy-game/
http://www.businessweek.com/news/2011-11-27/europe-must-act-to-prevent-debt-crisis-train-wreck-swan-says.html

Related Posts :