Serena Williams' Gold Medal Is Still Greater Than Crip Walk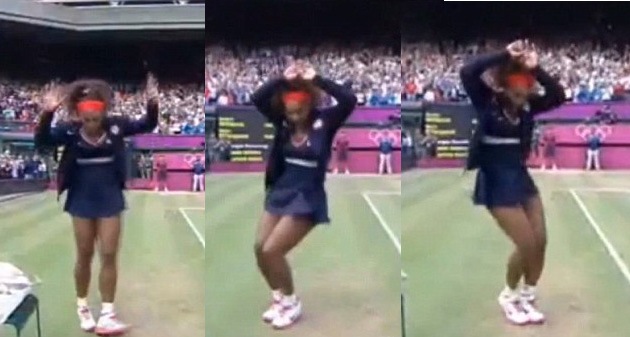 Is it just me or is this year's Olympic games full of a lot of so-called controversy?
Tennis superstar, Serena Williams kicked all kinds of butt this year to take home Olympic gold for her first win in the singles tournament. Following that win, Serena teamed up with equally amazing sister Venus to take home the gold medal for the doubles round. Congratulations you deserve it.
Serena admitted that she's always wanted to take home a singles win in the Olympics. Her excitement was clear when, after beating rival Maria Sharapova, justifiable joy manifested itself in a huge smile and a little dance. And as the joke goes, "that's when the fight started" so to speak.
Serena's jig looked like a fun happy dance to most but others recognized it as the Crip Walk, a dance made up by the notorious Los Angeles gang the Crips. Yes, that one. Does this mean Serena is a Crip? Highly doubtful. Does this mean she advocates for the gang and the activities they engage in? No it doesn't. Was it inappropriate? Yes, I believe so.
So then what does it mean??
It means that Serena grew up in Compton, California where the Crips hold a heavy influence upon the culture. Also, through many artists that have reached the mainstream, who have come up through the culture, have membership in or affiliation with the Crips, the Crip Walk has been popularized beyond that sub-culture. In other words, many people do it because many people do it.
I believe she was caught in the moment and that is what burst forth. Serena herself knew it was inappropriate, after the fact, when a reporter asked her what the name of the dance was then suggesting it might be "The Serena" or "The Wimbledon".
"Actually, there is a name. But I don't know if I — it's inappropriate," she dodged. "It's just a dance we do in California." – Serena Williams
Does this take away from her accomplishments or who she is? Not at all. She has apparently been the target of a lot of criticism recently, like the recent sexy Twitter picture incident. Serena supporters see her win as vindication of those who criticized her for various things. Serena showed and proved on the court and continues to in her public image. A mistake in the heat of the moment may be disappointing but doesn't take away from that.
Crip Walking on worldwide television isn't something advisable to do. Doing so does more harm than good. Opinions are mixed. Illseed at AllHipHop called it a "fail".  Some see her C-Walk as "not forgetting" where she came from.
To celebrate her victory, Serena showed respect to her Compton roots by doing a "Crip Walk" – http://theurbandaily.com
This is also something I have issue with. Identifying the performance of a dance of a gang as "showing respect to her Compton roots" is misguided. I would bet the non-Crip residents of Compton or their victims wouldn't appreciate being represented by this group. We have to be careful of what we accept and exalt. We also have to be mindful of what we allow to be a part of our daily lives. This is an organization that has a negative and violent impact on society and any representation of them, whether purposeful or accidental, normalizes ties to the group and what they represent.
That being said, Serena doesn't deserve to be demonized for what happened. It was a mistake. Move on. Celebrate her wins and all that it took to get there.
Wow. Were is my fairytale ending. I do I do I say I do deserve one.

— Serena Williams (@serenawilliams) July 30, 2012
Yes you do and you got it.
Additional:
http://msn.foxsports.com/olympics/tennis/story/serena-williams-taints-golden-slam-with-crip-walk-dance-080412
http://necolebitchie.com/2012/08/05/serena-williams-makes-history-and-she-does-a-mean-crip-walk/
http://theurbandaily.com/1932341/serena-williams-olympics-2012/
http://hiphopwired.com/2012/08/04/serena-williams-crip-walks-after-winning-gold-in-olympics/
http://allhiphop.com/2012/08/05/serena-williams-crip-walk-epic-win-or-epic-fail/