Obama's Birth Certificate Middle Finger To All Is Awesome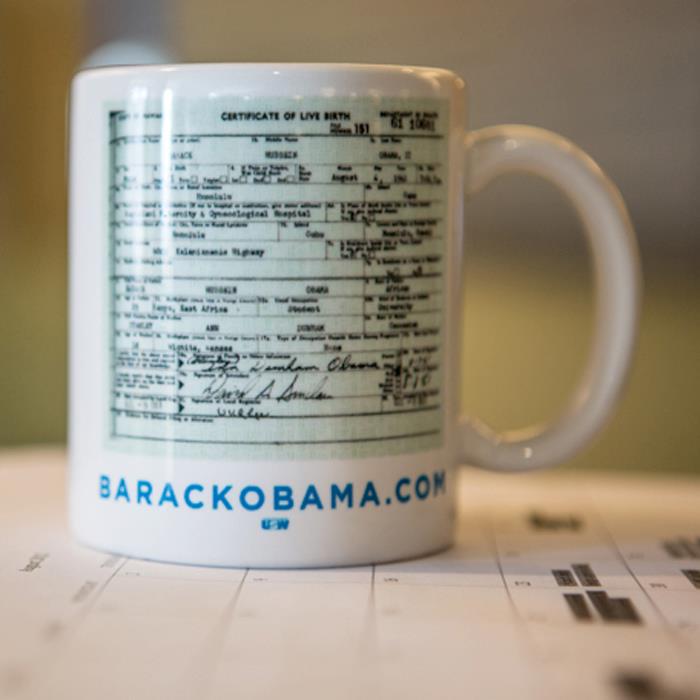 Look at it. Picture it in all it's glory. This is awesome. There is a bit of arrogant style in the Obama campaign selling a mug with his long form birth certificate plastered on it. After all the time-wasting ridiculous witch hunting that took place over his place of birth, this is funny as hell to me. Donald Trump should own one. He was vetted by the government, Hawaii confirmed his birth several times, and still these birthers persisted with their thinly veiled bigoted attack against the black man that they couldn't fathom being in the highest office in the land. Many still feel an uncomfortableness with Barack Obama being president that has nothing to do with his policies or political party. Those are convenient excuses to attempt to mask the real issue. Even now after he produced the long form certificate there are still those that refuse to accept the validity of the record. I don't need to mention the Tea Party movement or the Republican party's unprecedented opposition to anything Obama has tried to do to help the country but I just did, so there. Even Irish President Michael D. Higgins can see the nonsense.
Mitt Romney recently made a remark regarding the birther issue. He can say it was a joke but it was obviously an attempt to revive that bit of doubt in supporters minds to make them lean more in his direction.
"No one's ever asked to see my birth certificate. They know that this is the place that we were born and raised," Romney said. – washingtonpost.com Romney dig at Obama: No one's asked to see my birth certificate, people know I'm from Michigan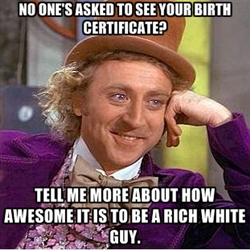 Oh that is funny Mitt. Comedy gold. You are a rich white man in America, you are rarely asked to prove anything. Unfortunately, white privilege is a very real thing here. Ask Louis C.K. about being white. You, Judge Tom Head, and Rick Perry should go on a comedy tour. For those that don't know Texan, Judge Head (seriously?) recently said there could be a civil war if Obama was re-elected. Texas Governor Rick Perry spoke about the state seceding from America after Obama's election.
If we think these things have nothing to do with race then we are fooling ourselves. It doesn't matter how great your relationship is with the blacks. Oh wait, Obama is half white? No, he only became that when it looked like he was going to win. Before that, he was black.
Let's stop trying to mask these issues and admit them so they can be dealt with. There are still people who feel a certain way about black people. That feeling isn't going to go away over night. It will take time and that is ok. Our society's culture leads feelings in that direction with indoctrinated teaching, media representation, stereotype participation and history. Those images are going to be there in many people. They will
fade in time. Barack Obama is proof of that. The youth will lead the way.
It would be unfair to not mention the opposition Obama has had to face from some sectors of the black population as well. Namely things like, "he's not a really black." I'm talking to you, Boondocks creator Aaron Mcgruder and those like you. Come on people, let's get it together.
So to you President Obama go kudos for the way you have dealt with what has to be very difficult mental stress. I don't agree with you on everything. NDAA is criminal, nuclear power is dangerously irresponsible, and appointing people who are part of the problem to positions that cause those problems are some of my pet peeves with you. That being said, this mug is awesome. I see you.
Additional:
http://www.washingtonpost.com/politics/romney-says-north-american-energy-independence-achievable-calls-for-more-offshore-drilling/2012/08/23/b6d955fe-ed95-11e1-866f-60a00f604425_story.html
http://www.foxnews.com/politics/2009/04/15/governor-says-texans-want-secede-union-probably-wont/
https://store.barackobama.com/obama-2012-store-home-outdoors/obama-2012-store-kitchen/made-in-the-usa-mug.html
Related Posts :