Obama Uses Humor To Make A Point on Fallon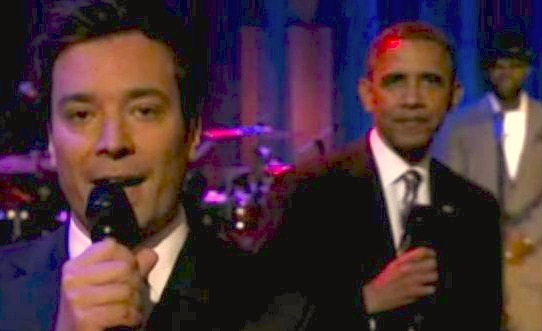 I'm sure we've all seen it by now, President Obama on the Jimmy Fallon show backed up by The Roots band as they Slow Jam the news. It's been hailed by supporters of Obama and panned by his critics. Personally, I thought it was funny, entertaining, and informative.
Before sitting down for a more formal interview, President Obama shocked the audience after appearing from behind stage curtains, ready to "slow jam" with Jimmy Fallon and his band (Philadelphia's hip hop sensation The Roots). Obama sang then talked the lead role, while Fallon and The Rootsoffered back up, on the tune of his plan to freeze interest rates for student loans. They were not shy about criticizing filibustering Republicans for standing in the way of his plan.
The slow jam the news segment highlighted a critical point in the economic policies and ideologies being argued by Obama and the Republicans. The point is one that is often brought up in discussions between my peers and myself yet I rarely hear on the news. That point is that the Republicans who oppose repealing the Bush tax cuts for the wealthy do so on the idea that basically they can't afford to return to the previous tax rate they had even though they are the richest among us, Even though that percentage rate is about a 3% difference. But, apparently students and those with lesser incomes are able to afford increases across the board. This is a fundamental point of greedy and self interests that should be at the forefront of the discussion.
The reality in America and the discussion of that reality is the high cost of attaining a college education and the incredible amounts of debt students accumulate attaining their degree. Yet, with that very visible problem and common discourse being prevalent there is a proposal to increase the interest rate on student loans. It almost seems like it is a deliberate plan to hold down anyone other than the wealthy and at the same time America itself.
"Education is an economic issue when we know beyond a shadow of a doubt that countries that out-educate us today, they will out-compete us tomorrow." – President Barack Obama
However much you disagree with Barack Obama and his policies, that quote about education is an absolute truth. The United States cannot move forward by limiting or removing educational opportunities. By making education only attainable by the wealthy we are setting our country back and putting liberty on its knees.
How Am I Supposed To Pay All This Back They're Coming For The Loans
What About My Future Family, Retirement And A Home
Come On Holmes, How Is Our Nation To Progress
If We Saddle The Hope For The Future With Crushing Debt
And No Way Out, With Jobs Going Overseas
We'll Be So Played Out, A Country On It's Knees
And We Can't Not Be Educated It Works Even Less
So What Do We Do, Catch 22 With Worry And Stress
An Ignorant Population's A Matter Of National Security
Which Makes This State One Of Irrational Absurdity
We Need Help Here, Like We Needed Healthcare
Or We'll Have Bigger Problems In The Future With Welfare
Do You Care? – Timid – "I Want The Secret"
This is supposed to be the land of the free at the home of the brave not the land of greed at the home of those who can pay. The cost of getting an education should be going in the opposite direction. Education should be becoming more affordable. We become a stronger nation by having a more educated population. This fact is undebatable. The availability of education is the great equalizer of opportunity and progress. If this point has to be put in R&B form drummed out by ?uestlove, harmonized by Black Thought, narrated by Jimmy
Fallon, and delivered by Barack Obama than so be it. It's that important.
America is being outpaced in education. We were once among the leaders of education in the world and now we have fallen behind. As Obama pointed out, this is also an economic issue. As was referenced during the height of this recession and has been the case throughout, many of the available jobs are unfilled due to a lack of qualified candidates. If we continue this attack on education, that list of unfilled jobs will grow and eventually will have to be filled by qualified imported candidates or outsourced to other countries.
Yea I can dig it too.
Additional:
http://www.youtube.com/watch?v=vAFQIciWsF4
http://www.whitehouse.gov/blog/2010/08/09/president-obama-higher-education-austin-we-are-not-playing-second-place
http://politic365.com/2012/04/29/why-republicans-hate-watching-obama-on-late-night/
Hip Hop artist, Timid, and Pace Professor offer tips to job seekers
Related Posts :